Are you planning a pool remodeling? Do you have a pool you've had for a while and are thinking about changing up? Perhaps you've noticed your pool needs to be remodeled following a recent swim.
Is it possible that the design is out of date? Whatever the reason, all pool owners will consider remodeling at some point. 
With so many alternatives, deciding which pool remodeling ideas are worth the money can be difficult. If you're looking for some ideas, we've compiled a list of seven intriguing pool remodeling ideas that we believe will give you the most bang for your dollar.
First thing first, what are the benefits of pool remodeling?
Sun Valley Pools AZ believes that a good pool redesign plan is more than just fun for you and your family. A swimming pool can increase the value of your home by 5% to 8%. In addition, if the surrounding area is appealing, modern, and well-equipped, it can increase the value of your home even more.
A patio redesign might also help you get more use of your backyard features. They all have a lifespan, no matter how high-quality they were when you installed them. Sun and water-damaged outdoor amenities take an extra toll.
A patio and pool remodel may give your backyard a new lease on life while also extending the life of your investment. Periodic maintenance and repair are required for every pool.
You can cut down on downtime and get back to enjoying your outside space as soon as possible by combining your redesign with necessary pool updates and repairs. Just remember to consider timing, weather, money, and hiring the best Arizona pool remodeling company Sun Valley Pools AZ.
Here are some inground pool remodeling ideas:
Inground Pool Remodeling Ideas
1. Adding Light to Your Pool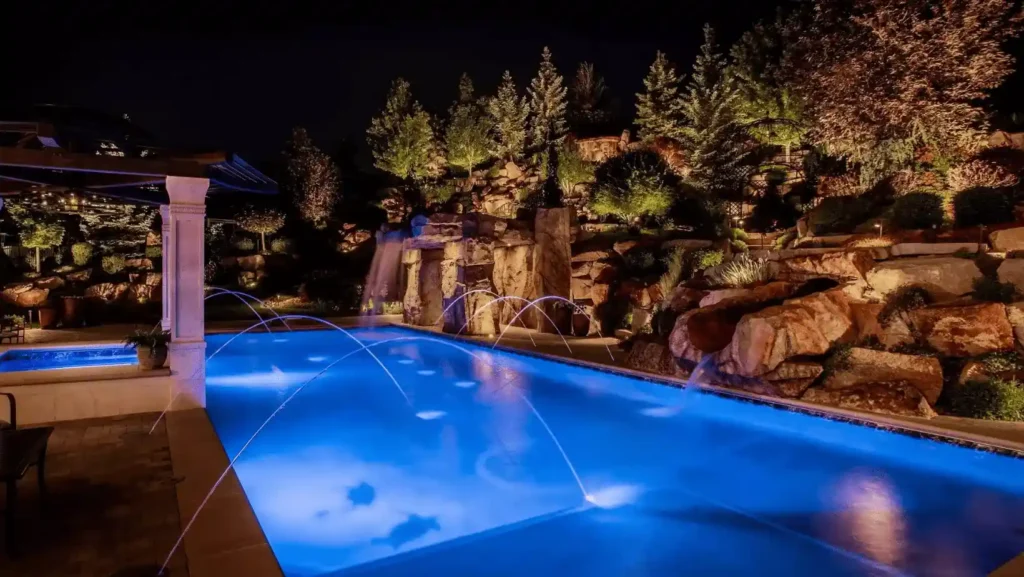 Adding LED lights to your pool is a simple upgrade that can drastically improve the appearance and feel of your garden. LED lights produce brighter, deeper, and more vibrant colors than traditional pool lighting, giving your pool area a distinctive and refreshing ambiance.
Different colored lights can also be programmed to create a dramatic and colorful light show. LED lights are more aesthetically pleasing than regular pool lights, but they also consume far less energy and have a significantly longer bulb lifespan.
Since LED lighting requires far less maintenance than regular pool lighting, the bulbs do not need to be changed frequently.
It's a popular choice for both high-end and low-cost pools.
Underwater LED lighting is an excellent method to change the ambiance around your pool without spending a lot of money. It makes a big statement in the evening and is perfect for outdoor dinner parties and celebrations.
Red, blue, green, or purple is just a few of the hues available to set the proper mood. You are not obligated to use only one color. You can alter it whenever you want.
2. Water Features Make a Huge Impact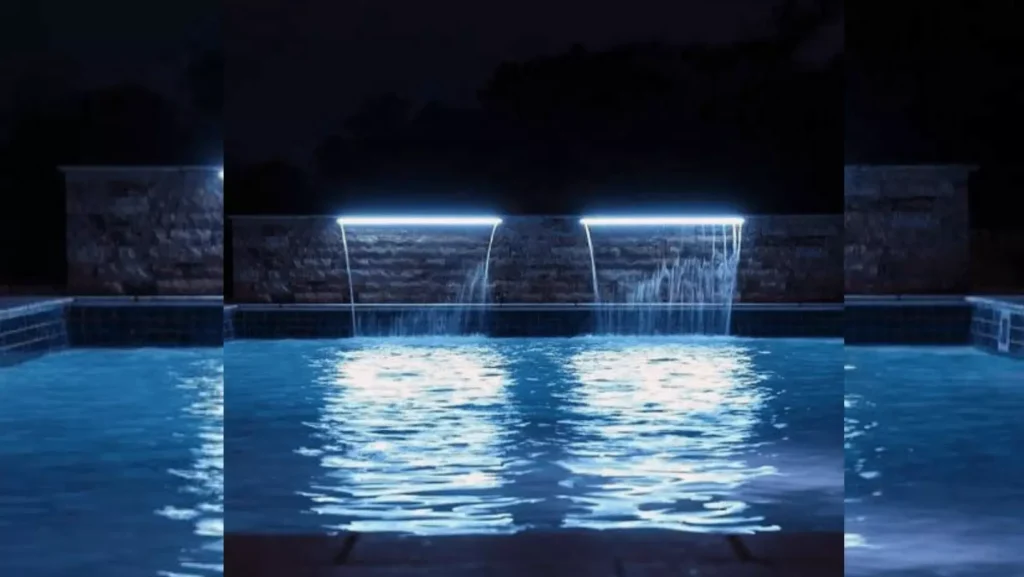 Do you want to take your patio from functional to magazine-worthy?
The addition of water elements to a backyard pool adds beauty and excitement to the space.
Consider including attractive water features in your pool, such as infinity borders, fountains, and waterfalls. It'll turn your backyard into your refuge, rather than just a spot to take a short dip.
Innovative water features will complement the attractiveness of your landscaping while also providing refreshing green places.
They also improve the sound quality of your pool area by adding the relaxing, captivating sound of cascading water.
These kinds of characteristics are also beneficial in terms of practicality. For example, pool circulation is essential for pool maintenance, and adding water features will help with that.
Circulation keeps pool chemicals moving and aids in the faster transport of foreign matter to the filter.
Another advantage is that a continually in motion pool is less prone to develop algal problems.
Because you may select how much you want to spend, adding water features is an ideal remodeling choice for pool owners on a budget. At every price point, there are excellent options. If you only wish to invest a few hundred dollars, you can do so.
There are also many possibilities if you're willing to spend more money on your remodeling. And the beauty of water features is that they make an enormous impact no matter how much money you spend on renovating.
The most important thing is to hire the best AZ pool service and remodel company so that you can fully enjoy the entire procedure.
3. Spa Addition to Get the Most Out of Your Relaxation
Have you ever fantasized about owning a spa? It doesn't have to be a pipe dream with the appropriate Arizona pool remodeling company on board. According to our Sun Valley Pools team, the installation of a spa in your outdoor space is one accessible patio redesign concept.
You may relax as often as you like by adding a therapeutic heated spa to your pool area. Hot tubs, in fact, can be good for your health. They can improve your heart health, help you get a better night's sleep, and alleviate aches and pains.
Anyone with a health concern, such as low blood pressure or heart disease should consult their doctor before utilizing saunas or hot tubs as a precaution.
After a long day at work or a strenuous workout, wouldn't it be wonderful to relax in a heated spa with high-action jets?
This pool remodeling option has the potential to improve your life.
4. Renew the appearance of your pool deck
A gorgeous outdoor update such as a new pool deck or pool pavers could be the answer to completing your outside space. A pool deck or patio is just as vital as a well-designed pool in a well-designed setting.
You may spend more time on the deck than in your pool, doing everything from sunbathing to playing and entertaining your visitors. To complete your landscape, a well-thought-out design should be considered.
Depending on your design goals, pool decking may transform your swimming pool into a tropical oasis, natural cave, or modern masterpiece. Sun Valley pool collaborates with our clients to ensure that the design is welcoming, enjoyable, and safe for your family so that you can make the most of your space.
The most aesthetically striking makeover you can undertake, short of changing the shape of your pool, is resurfacing the deck. This is particularly true if your deck is older than ten years. In addition, pool decking solutions are likely to be far more affordable than a decade ago.
The most budget-friendly alternative is to resurface your deck with concrete and call it a day. On the other hand, stamped overlays and spray texture overlays can offer a lot of personality to a concrete deck.
5. Pool Resurfacing
Resurfacing the pool is one of the most common pool remodeling jobs. However, there are various inventive solutions available today that will offer you a pool that is unlike any other in your community. Here are some ideas to get you started.
This pool surfacing material comprises tiny stones that are glued together and then molded to form the pool's bottom. PebbleTec is undoubtedly one of the most durable and stain-resistant options available, and it comes in almost any color you can imagine.
This brand extends the PebbleTec finish's durability and appeal. PebbleSheen decorates the swimming pool's bottom with a pebble mosaic. This mosaic is then lightly rubbed, resulting in a pool surface with a finely grained texture that resembles absolute granite.
The most pleasing finish is the ideal material for pool owners who want something that looks and feels like plaster but isn't. Traditional plaster is substantially less dense than this substance. This increases its resistance to the chemicals regularly added to the pool.
Traditionalists may like a tile finish, and there are no limits to what you can accomplish with tiles. However, maybe all you want to do is change the hue to something more current. Pool tile replacement and maintenance are pretty straightforward with time and effort.
Plaster, according to some homeowners, is the way to go. Although superior materials are available today, it was previously a common material used for pool surfaces. The finest finish, for example, is a substance that closely resembles plaster but is significantly more durable than conventional plaster. As a result, you should carefully explore all of your options before deciding that plaster is the best option.
Consult us at Sun Valley Pools AZ if you are unsure about the finish you should use. Custom rock features are an excellent way to enhance the look of your yard. We can accomplish whatever design you want for your new pool remodel with our custom rock feature design and installation services. There are so many possibilities.
6. A system with Salt Water
You've probably heard about saltwater pools and how they can help you save money over time. For example, a saltwater system could be an excellent long-term investment if you want to save money on your remodeling.
In terms of cosmetic look, it may not appear to be a significant investment. However, removing the odor of chlorine and other chemicals can boost the appearance of your pool just as much. Additionally, some people find that saltwater pools are less irritating to their skin.
The transition to saltwater systems is a prominent trend in swimming pools. These systems employ salt to produce chlorine in the water, eliminating the need for typical chlorine addition. It's also convenient not to have to buy, store, or handle chlorine.
However, saltwater pools are often less expensive to maintain, making this a cost-effective addition.
7. Equipment and Systems Upgrade
Some pool equipment is more energy-intensive than others. Choose energy-saving devices to reduce your energy expenditures. For example, use solar-powered lighting and heating instead of using electricity for your Scottsdale pool.
Each day, technology advances. It is a good idea to automate systems. It will help you save money while also improving the efficiency of your pool equipment. Pool covers and cleaners that are automatically operated are well worth the investment.
Why you should remodel your pool:
Having a gorgeous custom-built swimming pool in your backyard has many advantages and benefits. The ability to swim at any time is undoubtedly the most convenient feature of a bespoke in-ground swimming pool.
The advantages of having a swimming pool are numerous. With a lovely tropical backyard oasis, your backyard might become your favorite staycation spot. Swimming in a pool is enjoyable, but it also provides the ideal venue for hosting backyard parties.
We understand that owning a swimming pool and spa comes with many rewards and benefits, but it also comes with a lot of responsibility. Swimming pools require weekly upkeep and care, but they may also demand more on occasion.
When you have a newer swimming pool and spa, upgrading your backyard is usually not on your agenda, and it isn't required. On the other hand, if your pool was built many years ago and is showing signs of wear and tear, it may be time to consider a backyard redesign. If you still like the shape of your pool, a simple cosmetic change can be enough. You can re-pebble or re-plaster the interior of your pool and spa with a cosmetic overhaul to give it a fresh new color and finish.
You can also replace the waterline tile and the coping and stone. These cosmetic alterations can completely transform the appearance of your pool and spa. For example, a waterfall, a fire pit, a water feature, or even a waterslide can be added.
If your swimming pool and spa are particularly old or outdated, you might want to consider a total remodel. The pool's shape, possibly its location, and all materials used would all be removed and replaced.
To wrap up:
Your relationship with your outdoor space will be completely transformed after you upgrade your pool and patio. Whether you simply add some integrated landscaping and LED lights to your backyard or install a spa with water features and a fire pit, you'll be shocked at how much more you utilize it.
Is it time to revamp your backyard? We love transforming your outdoor living space into your ultimate favorite spot.