Pool building is a significant financial commitment. Putting in or constructing a new inground pool might be an expensive endeavor. Still, you'll also need to commit a considerable amount of time and effort, not to mention yard space, in order to keep a pool clean and functioning properly.
You will need to do a lot of preparation in order to ensure that this project is successful. Along the road, you will have many decisions to make. Including the type and size of the pool, who you want to hire as your contractor, and other things.
Determining how much of a pool you can purchase within your budget is typically the first step in the process. Having a reasonable budget before you begin can assist you in making critical decisions. The options are all related to the pool itself, including its shape, depth, and features. It would be best if you also investigated the feasibility of installing a swimming pool in your backyard.
Environmental factors can make construction more challenging or expensive, such as an awkwardly shaped area or steep hills. Before starting your backyard renovation project, read this guide on installing a pool that covers the most critical questions.
Swimming Pool Building Costs
Have you ever wondered how much does  inground pool cost in Arizona? The price of a pool construction might vary not just by geography but also by the style of the pool. For instance, the price of a fiberglass pool is typically lower than that of a concrete pool in many parts of the country, although this is not always the case.
That size is likely a more essential indication of price than anything else.
The price of smaller pools will typically range from about $20,000 to $30,000;
Prices for pools of medium size will range between $30,000 and $40,000;
The price of large pools starts at $40,000 and continues to rise from there;
Costs might rise by as much as 20% when add-ons like diving boards, slides, decking, lights, and self-cleaning mechanisms.
If you provide them with the dimensions of your pool, some pool companies in Arizona may be able to provide you with a more precise quotation. For instance, the cost of constructing a concrete pool in various regions is approximately $10 per cubic foot.
As is the case when making any improvement to your property, you should get many quotations from reliable contractors and inquire about as many references as possible.
Be sure to include the recurring maintenance costs in addition to the original expenditure. For example, vinyl liners have a lifespan of approximately 5 to 10 years, after which we must change them. Each instance of that will run you about $4,000.
Concrete swimming pools require resurfacing approximately every ten years, which is a procedure that might cost much more money. However, fiberglass pools are a wise financial decision because they may survive up to 25 years without requiring major repairs.
Fiberglass is less prone to become stained or foster algae growth, reducing the difficulty and money associated with upkeep.
Your preferences in terms of design, needs, finances, and the amount of space available, will determine the size and shape. A swim spa is a type of small swimming pool that is just 10 to 14 feet long, generating an artificial current and allowing swimmers to swim in place against it. 
Although they are often somewhat narrow, lap pools nevertheless ask for a reasonably sizable backyard. Some of them are as long as an Olympic pool, making them suitable for swimming and other forms of exercise.
Recreational pools often have one shallow end and the different deep enough for diving, typically between 9 and 11 feet. They are usually in the shape of a rectangle, and they come in a variety of sizes.
There is also the option of freeform shapes, which tend to be chosen more frequently because they are easier to incorporate into the natural environment of the backyard.
Having a pool constructed nearby the dining area and the living room is a popular choice among pool owners. That makes it simpler to bring food and drink out, clean up afterwards, and provide convenient access to the house.
Another bonus is the convenience of watching the pool from within the home. And yet, if you can find a way to keep your pool partly hidden from view, it can feel like you've escaped to a tropical oasis without leaving your driveway.
No one will be picky as long as there is a level, well-lit path leading from the house to the pool and a sizable deck surrounding the pool for lounging and cooking. In addition, a cabana by the pool is a convenient place to change into dry clothes and take a shower.
Swimming Pool Maintenance
The total price of a new pool is not limited to its initial outlay of cash. Upkeep, materials, and power costs can range from $1,000 to $3,000 per year. This price depends on how much of it is contracted out.
These tasks include opening and closing, cleaning, inspecting connections, balancing pH, adding algaecide, repairing surfaces, and replacing liners.
Green options that are cheaper than conventional ones exist. It's best to look at alternative methods of water purification before settling on chlorine as your primary sanitizer. Some examples are saltwater, ionization, oxidation, ultrasonic waves, and specific plant species.
In addition, you should consider solar thermal heating if you want to utilize your concrete pool throughout the year, even when the weather outside is cooler. The rate of return is the quickest of any solar technology.
In the absence of adult supervision, the Consumer Product Safety Commission recommends taking measures to keep youngsters away from water sources. Include a fence the circumference of the pool in your blueprints when you're building it so no one can get in or out. 
Gates need to have the ability to lock, in addition to being able to close and latch on their own. In addition to anti-entrapment drain covers and securable pool coverings, owners should put on doors, gates, and pool alarms on the property.
Everyone who uses the pool should take swimming lessons, and at least one member of each household should have training in cardiopulmonary resuscitation (CPR), first aid, and emergency response procedures.
The Process of Pool Construction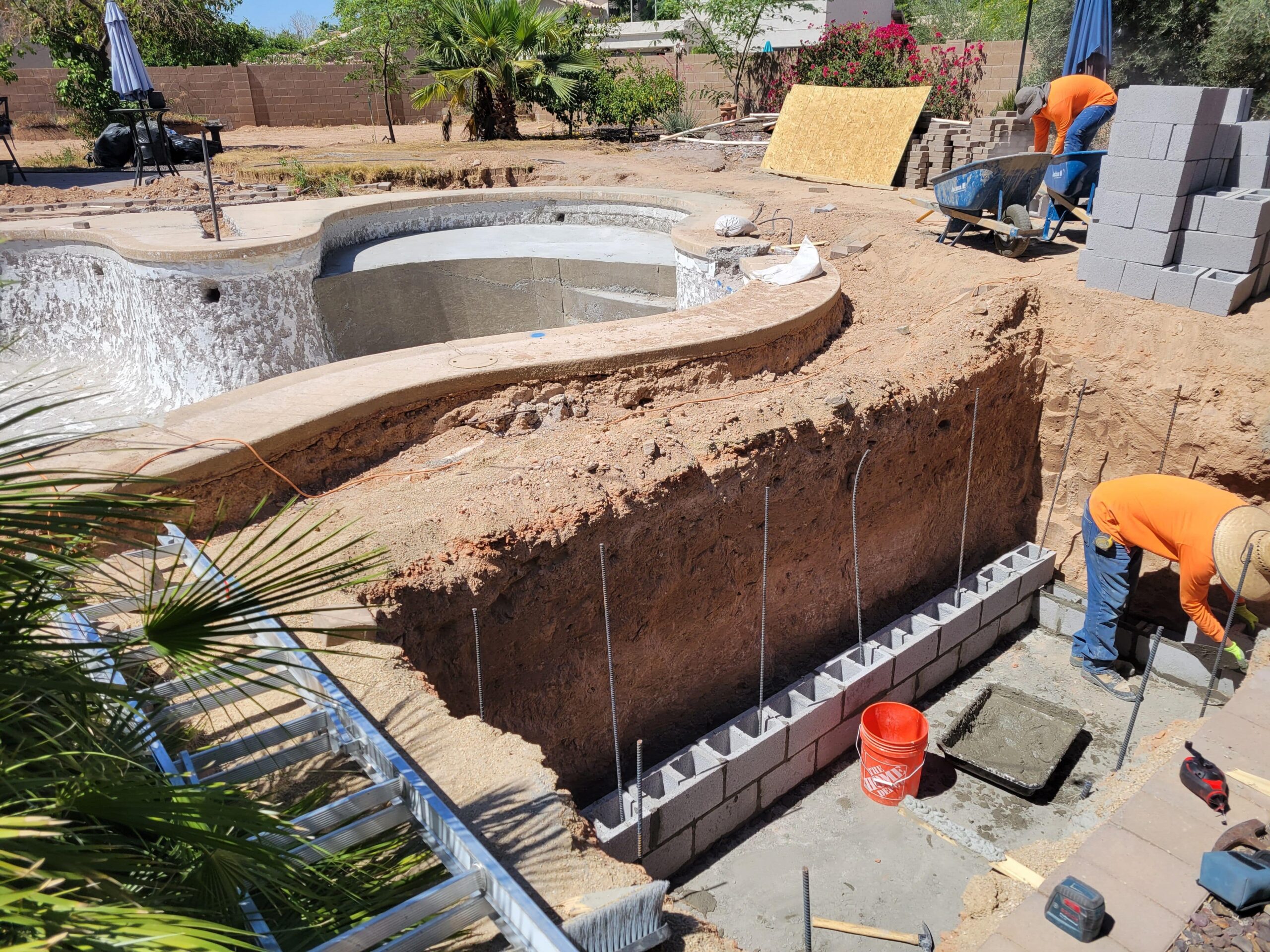 If you are considering constructing a pool, There are a few things regarding the construction process of a concrete pool that you need to be aware of. Keep reading to learn about the pool installation steps:
Pool Building Step 1: Excavation
Excavation of the site is the initial phase in building a pool and should begin as soon as the pool's layout and design have been finalized. Because the outcome of this phase will decide the basis of your pool, it is a very significant step. To ensure the integrity and security of your swimming pool, the excavation must be carried out in the correct manner.
Pool Building Step 2: Steel Installation
After the excavation, the following stage is to set up the steel framework for the structure. Because it will give assistance for your pool, this is another very vital step. To ensure that the steel can bear the weight of the pool as well as the forces of nature, it is necessary to ensure that it is correctly installed.
Pool Building Step 3: Plumbing
Putting in place the necessary plumbing is the next phase in the procedure. This includes setting up everything that will keep your pool running well, such as pumps, drains, filters, and more. It is essential to check that the company correctly installed the plumbing in order to guarantee that your pool will function as it should. We will also install the plumbing for any amenities that you have selected, such as waterfalls or jets, at this time if you have chosen these features.
Pool Building Step 4: Filling with Gunite or Concrete
Following the completion of the plumbing installation, the next stage is to either gunite or concrete fill the pool. Due to the fact that it will serve as the basis for the building of your pool, this phase is of the utmost significance. 
Therefore, in order to ensure that your pool will be sturdy and long-lasting, it is essential to ensure that the gunite or concrete used in its construction is appropriately mixed and coated. In place of a gunite or concrete pool, you might opt to use a pre-formed fiberglass pool form instead. The pre-formed fiberglass pool form will be installed in this phase.
Pool Building Step 5: Laying the Tile Flooring
The installation of the tile and decking is the next phase in the procedure. Tile flooring is an excellent choice since it serves multiple purposes and looks great. This material is long-lasting, prevents water damage, and improves the aesthetics and usability of your pool.
The tiling, coping, and other finishing touches that will give your pool its final stunning look are all part of the package. At this stage, the excitement comes from the fact that you'll start to see a glimpse of the final look of your pool.
Pool Building Step 6: Lights and Additional Accessories
The installation of the interior finishings is the very last step in the process of actually constructing a swimming pool. This includes installing the stages, lights, and other amenities that will bring your pool to its full potential. The interior finishings are the elements that will set your pool apart from others and give it its one-of-a-kind appearance by selecting the perfect pool lighting.
Positive effects of pool lighting:
Increased visibility at night makes swimming much safer;
Adding vibrant color lighting can completely transform the look of your in-ground pool;
There is nothing like the beauty of a pool with lighting, fountains, and other features;
Pool lighting choices are endless;
If you want to swim in your pool at night, underwater lights will make it sparkle.
Pool Building Step 7: Preparing Your Swimming Pool for Guests
Starting up your pool is the next step to take after the process of building your pool. This includes adding water and chemicals, checking the equipment, and ensuring that everything is functioning appropriately.
No matter how eager you are to jump right in, this final checklist is an essential safety step to ensure that everything is working correctly and is ready to use before you begin using your pool.
The next step is testing the chemical levels to ensure they are within safe limits. What you must know is as follows:
The ideal pH range is 7.24 to 7.28. If it drops any lower, soda ash will bring it back up. If it rises too high, sodium bisulfate can help bring it down;
Calcium concentrations need to be between 150 and 250 ppm. If there isn't enough calcium in the water, it will be too soft for swimming. To raise calcium levels, use calcium chloride;
Keeping the chlorine concentration in your pool between 1 and 3 ppm is important. Give it a day or two to settle if you have an excess.;
Good alkalinity ranges from 80 to 120.  If it is too high, muriatic acid can be added. And if it is too low, sodium bicarbonate can be used as a neutralizer.
Know Your Pool Building Contractor
Building a swimming pool is no exception to the rule that it may incur a surprising amount of money or delay throughout the project. You want your pool to be the place where your family and friends congregate, so employ some of the dependable Arizona pool companies that you know and trust.
For more than half a century, Sun Valley Pools AZ has been an innovator in the swimming pool business. Over the course of several decades, we have designed and constructed countless pools and spas. While keeping one eye on the future to ensure we use the most advanced construction methods and materials.
We have a wealth of experience in both the construction and design of swimming pools. We develop original, unique designs for swimming pools and spas. If you want to learn more about one of the best pool builders Arizona, contact us!