If you're building a new house, you'll want to ensure it has everything your family needs now and in the future. When you imagine adding a swimming pool, you might imagine staring at the dazzling blue water, swimming morning laps, or floating in cold water under the hot Arizona summer sun. Many people dream of having a swimming pool in their backyard, but when working on plans for new development, they typically dismiss the concept as "too difficult." Installing a swimming pool in your new house or a knock-down rebuild has numerous advantages.
Of course, there are distinct advantages: pools are terrific for entertaining friends and family, keeping you cool in the summer, and providing excellent workout opportunities.
But there's more to add a pool to your new design. You have a clean slate to work with, allowing you to design a pool that matches your lifestyle and budget and will enable you to create your ideal backyard retreat.
Let's face it, when it comes to pools, first impressions count. When it comes to inground pool types in Scottsdale, Arizona, some people prefer the appearance of a bright blue pool, while others prefer the mystery of a pool with presumably black water. You might be wondering how you managed to achieve all of these effects. It's simple: adjust the color of your pool's surface.
However, if you're considering installing a pool in your house, you should be aware of the various types of inground pool finishes on the market. Some pool surfaces can save money in the long run by reducing maintenance expenses and time, while others can save money upfront.
Pool finishes and pool surfaces come in a variety of functions and styles.
Understanding the advantages and disadvantages of each option might assist you in making the best decision for your lifestyle. The color and texture of the pool inside are crucial. To give your backyard a finished look, it must fit the style of your home and the sort of landscape you have.
This article will teach you everything you need to know about the popular inground pools in Arizona: types of pool finishes, inground pool surface options, and types.
Different Inground Pool Surface Options and Finishes
Here are some of the most common types of inground pool surfaces and finishes used in Arizona:
1. Tile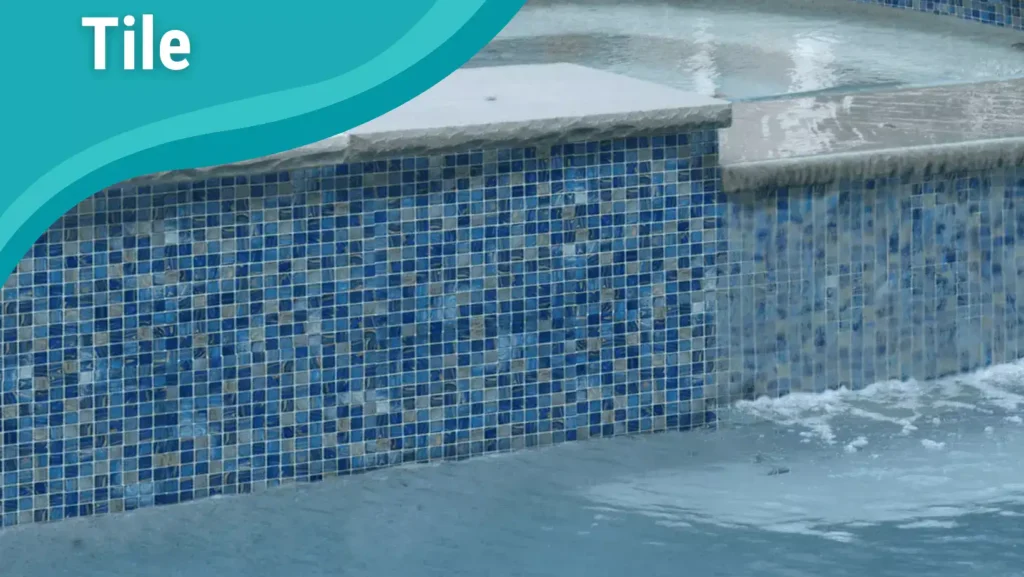 A tile has a contemporary look and can be painted in an infinite number of colors, giving you the most options. The beauty of tile is that it lasts a very long time. They take a long time to install, but they are well worth the money because they can withstand a lot of wear and tear.
For a unique look, there are simple tiles, traditional Greek-style tiles, diamond patterns, and even mosaics. Compared to concrete or aggregate plaster, tiles are far more durable and require less care.
-Long-lasting.
– Very customizable.
-Stain-resistant.
-Low-maintenance.
-Higher costs.
-Longer installation time.
Tiling the pool is a one-of-a-kind approach to personalize the entire space. You can make your own patterns and use a wide range of colors. Many pool owners prefer tile because it is low-maintenance and long-lasting.
Depending on the sort of tile you choose and the size of the pool, pool tiling might be a costly alternative. It's also possible that installation will be more difficult.
2. Plaster
This is the most cost-effective pool interior used in AZ. Although it is less expensive, it does necessitate more significant upkeep. Because white reflects the blue of the sky and can produce varied moods in your pool water depending on the daily weather, it is the most preferred hue for plaster interiors.
Discoloration can occur as a result of constant exposure to the outdoors and pool chemicals. It may need to be repainted or replastered on a regular basis. Since the 1960s, plaster has been used as a pool surface.
The water in the pool is usually painted with a bright blue tint to make it look inviting and clean.
Although the surface is hard, it is also permeable. Because of its porous structure, it shows stains more easily and quickly than other surfaces. If you want the plaster to last for several years, you may need to do more upkeep. With proper care, plaster can last anywhere from 12 to 14 years.
-Smooth texture.
-Low cost.
-Visually appealing.
-Not as long-lasting as other solutions.
-Requires more upkeep to prevent stains.
-Difficult to install.
3. Pebble
This is a fantastic option if you're seeking a more natural look for your Arizona home. They go well with the greenery-encircled lagoon pool. Pebble is a long-lasting, stain- and chemical-resistant material that does not require grout.
-The Color; Pebble is available in various colors; the specialists can apply bespoke Pebble finishes. When guests see the hue of a Pebble-treated pool, they will gasp. Thanks to the additional finishes, they'll be enthralled by the way the light shimmers in the water.
-Design Options; Pebble pool surfaces offer a multitude of distinctive design options, in addition to color and texture, that either blend into or serve to establish a backyard's overall design plan.
Because there are so many pebble selections available and custom possibilities, homeowners may create a pool floor that is bright and summery or cool and futuristic.
-Low Maintenance; Pebble pool finishes are known for being low maintenance. It's a good idea to consider how much upkeep, effort, and money you're willing to put into your pool once it's resurfaced when thinking about resurfacing it.
A pebble pool surface is a fantastic choice if you don't want a pool that requires a lot of brushing or that is easily stained. The majority of pebble pool surfaces are stain-resistant and endure a long time.
These surfaces offer a non-slip coating that is easier to clean than plaster, and they need to be cleaned less frequently.
-Texture; Many people complain about the texture of pebble pool surfaces, not because they are not pretty, but because they are uncomfortable. The size of the Pebble used might cause roughness. Quality pebble surfaces and smaller sizes.
However, the roughness of pebble pool finishes contributes to their appeal and feel. But at the same time pebbles are also non-slip, dependable, and durable.
4. Quartz
Quartz is at the top of the pool finish list for a reason. Its color is bright and lasts a long time. When seashells or other additions are added to refract and reflect light, it has a silky smooth texture and looks to sparkle.
Quartz finishes in pools are popular among swimmers because they are silky soft, and gentle on feet and bathing suits. Cleaning the pool is also a breeze.
The most cost-effective pool aggregate finish is quartz, which is the first step up from bare plaster.
This effect is created with a combination of cement, colorful quartz, dyes, and additives.
Crushed quartz is coated with ceramic to produce colored quartz. After then, it's polished to reveal a gleaming, patterned surface.
Quartz can also be used as an accent to provide some "pop" to a dull pool.
– Improved aesthetics.
-Stain resistance.
-Durability.
-Little upkeep.
-Increased costs.
-Complicated installation.
Quartz pools are similar to plaster pools, but they have a quartz material added to them. Both plaster and pebble finishes are used. They usually last between seven and twelve years.
5. Glass Beading
Glass beads can provide a unique touch to your pool's finish. They're a relatively new addition to the inner lining choices. They're seamless and available in several colors. They are exceptionally long-lasting and provide bright illumination.
Glass bead blasting is a quick and effective way to clean pool tiles. It cleans the surface by removing dirt, grime, oil, grit, stains, chemical residue, and mineral buildup. The recycled glass beads or crushed glass utilized in the procedure are round glass beads.
To gain clear access to the deposits, professionals lower the pool water level six inches below the tile line. A stream of delicate glass beads is fired at high pressure against the tiles using specialized blasting equipment. It removes all undesired elements and gives the surface a gleaming appearance. After washing the pool and deck, it is much easier to clean the glass beads.
Glass bead blasting is suitable for most current pool surfaces and is advantageous to all pool owners.
-Affordable.
-There are no harmful chemicals used in this procedure.
-Eco-friendly.
-Versatile.
-When compared to alternative blast media and chemical treatment procedures, this method is far safer.
-Taking up less time, the pool's water chemistry is unaffected, and cleaning up afterwards is painless and straightforward.
-The tiles are neither harmed nor faded, and the finish is brilliant, smooth, and spotless.
Cons: To be completed safely requires specific equipment and training; because glass is a softer material, the effects linger less time than a more challenging blast medium.
6. Paint
Two-pack epoxy paint is used for painting interiors. It's designed specifically for pool use. The main benefit of color is its smooth surface which comes in a wide range of colors.
A limited life expectancy is a disadvantage; once a pool is painted, it must be repainted every year or two. Weather factors can also affect the surface's lifetime.
7. Aggregate
Aggregate is a new take on the traditional plaster pool finish. It is similar to plaster, but additional materials are used in the composition instead of sand. Pebbles, quartz, and glass beads are examples of this type of material. The blend forms a pattern in the final finish, giving your pool more texture and depth.
When dealing with aggregate, you must select whether you want an exposed look, in which the blended material is entire and has a rough surface, or a polished look, in which the material has been sheared down to create a flat surface.
– It has a longer lifespan than plaster.
-You can choose between a smooth or textured surface.
-You may design several different looks.
-It is resistant to stains.
-It resists chemicals better than most other pool coatings.
-The roughness of exposed aggregate finishes might make it difficult to walk on.
-Within a few years, glass beads can start to deteriorate.
The aggregate finish's beauty and more extended durability are its key features. Pool builders can employ a broader spectrum of colors while maintaining a high consistency level. The aggregate finish is expected to last for 10 to 12 years.
Exposed and polished aggregate pools are the two forms of aggregate pool finishes. On the other hand, all aggregate finishes are typically a mix of plaster, concrete, pebbles, and, on rare occasions, glass beads.
8. Hydrazzo
Although Hydrazzo is essentially a type of aggregate, its excellent quality and appearance distinguish it from other pool finishes. Hydrazzo is made out of crystalline, colored marble, white Portland cement, and performance-enhancing additives.
Hydrazzo is hand polished after it has been blended and installed to give it a natural sheen.
-The aggregate finish is the smoothest on the market.
-It's made from a natural material mix.
-It's really long-lasting.
-Colors are available in a variety of shades.
-It's easy to keep up.
-Algae and scale will not stick to it.
-It is a more expensive option than pool finishes like plaster because it is a luxury option.
Hydrazzo is the pool finish for you if you want to create a one-of-a-kind, spectacular design.
As summer approaches, it's time for some water fun, and your swimming pool is the ideal backyard oasis, offering a plethora of alternatives for relaxation and entertainment – even if massive pool parties aren't in the cards.
The best pool finish for your Scottsdale home will be determined by your pool's size, goals, and filtration system.
Doing pool remodeling or building an inground pool can be exhausting on its own. Even the easiest detail can result in significant losses. This can be avoided by signing up for pool services offered by specialists like us. If you live in Scottsdale AZ, feel free to request a free quote below.